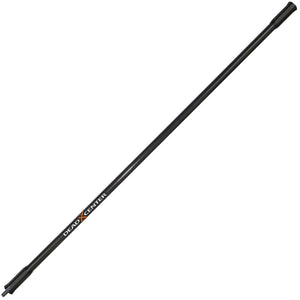 Bargain Bin items may come without original packaging, may have been used as display items, may have physical blemishes, or minor cosmetic defects etc. but are fully functional. All sales of Bargain Bin items are final.
Images do not represent actual item.
--
The Iconx series of premium target stabilizers was crafted to meet and exceed the demands of professional and aspiring archers for the highest in quality and performance.  
Features: 
Premium Ultra High Modulus woven carbon fiber tubing makes the Iconx our stiffest stabilizer for optimized stability and accuracy. Slim 5/8" diameter reduces the effects of wind. Unique internal Anti-Vibration material kills felt vibration.

Iconx-specific designed aluminum end caps provide an extra solid connection to minimize vibration and flex.

The Dual Thread Indexing Stud allows for proper alignment of the logos when the stabilizer is installed.

Iconx Series stabilizers accept 1/4-20 threaded Custom Balance weights allowing you to custom tailor your weight configuration to your specific needs. Weights and accessories sold separately.