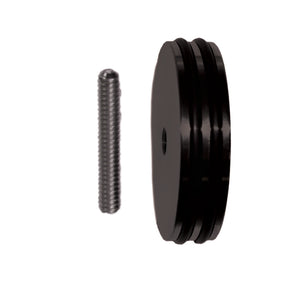 Bargain Bin items may come without original packaging, may have been used as display items, may have physical blemishes, or minor cosmetic defects etc. but are fully functional. All sales of Bargain Bin items are final. 
 Images do not represent actual item.
Custom balance weights are constructed of Stainless Steel and include rubber o-rings for vibration dampening and superior tightening.  Custom tailor your weight and balance configuration to meet any need and achieve true balance.
Available in Matte Black or Polished Stainless
Thread:  1/4-20 fits all Dead Center stabilizers, 5/16-24 fits other branded stabilizers
Specifications:
| | | |
| --- | --- | --- |
| 1/2 oz | 1 in. diameter x .220 in. thick | Includes 2 weights |
| 1oz | 1.25 in. diameter x .220 in. thick | Includes 1 weight |
| 1oz set | 1.25 in. diameter x .220 in. thick | Includes 3 weights, 1 threaded rod |
| 3oz | 1.5 in. diameter x .440 in. thick | Includes 1 weight, 1 threaded rod |
| 6oz | 1.5 in. diameter x .880 in. thick | Includes 1 weight, 1 threaded rod |
| 3oz XL  | 2 in. diameter x .250 in. thick | Includes 1 weight, 1 threaded rod |
| 6oz XL | 2 in. diameter x .480 in. thick | Includes 1 weight, 1 threaded rod |